10 greatest Pittsburgh Steelers
Posted: April 2015
The 10 greatest Pittsburgh Steelers, in descending order, chosen by 6thring.com:


10. Mel Blount
Physicality from the modern cornerback position never seen since; excellence in 1975 and 1976 nearly unmatched in history. A ridiculous specimen, 6-4, long arms, ran like a deer, hit like a truck, intimidated receivers every game, rarely injured. Did get famously beat in the 1974 AFC title game, spent vast majority of career dealing out punishment.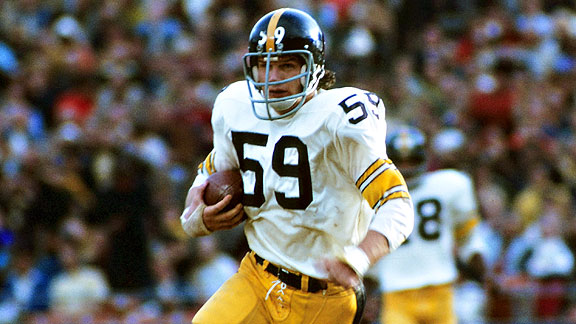 9. Jack Ham
From 1974-76, the franchise produced 3 different NFL defensive MVPs — and astoundingly, he wasn't one of them. Coming up huge in one of the franchise's biggest games, the 1974 AFC Championship game, he was for the collective 75-77 seasons likely the NFL's best defensive player. An incredible football IQ, could force a fumble, pick off a pass, block a punt.


8. Jack Lambert
Refused to be anything but the intimidator, and with freakish talent. Perhaps the best goal-line defender in NFL history, ability to make something happen in pass coverage was one of football's best-kept secrets; somehow tracked down Cliff Branch for lead-saving tackle in 1974 AFC Championship Game. Prone to emotional penalties and mistakes, usually dealt the final blow.


7. John Stallworth
Only Chuck Noll can explain how he wasn't given a regular starting nod until 1976; perhaps it was his epic performance in the 1975 AFC Championship Game — 3 enormous plays — that put him over the top. Has to rate behind Swann simply because of Super Bowl X; in 77-79 it's a push as to who was better; together they were unstoppable.


6. Lynn Swann
The NFL's best receiver of the 1970s — by a hair — over his teammate, they were the difference-makers upon arrival in 1974 despite not being given a starting nod. Caught everything in sight and got open against the best defenses. Possibly tried too hard for the superb catch, leading to array of injuries.


5. Hines Ward
On the short list of NFL's most underrated players, staggeringly effective leader of a 2-time champion. Able to make a play and get open with uncanny timeliness and put the chip on the shoulder of the Cowher era. Elevated production in playoff games that outshines Randy Moss and Larry Fitzgerald.


4. Joe Greene
Face of the franchise spearheaded the franchise's ascent to Super Bowl IX. Through 1974, moved like a massive linebacker at DT, wrecking offenses; domination tailed off in 1975 with onset of pinched nerve. All-time great through 1974, Pro Bowl-level player from '75-'77, veteran leader in '78-'79, no finer tribute to the football warrior than the Coke commercial.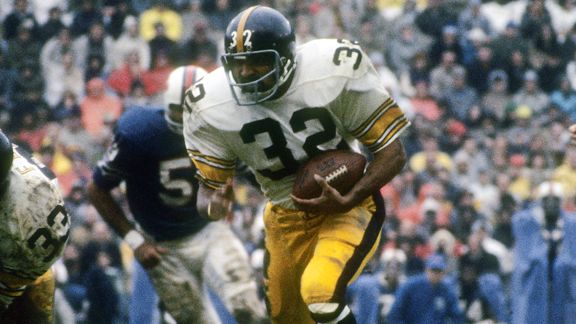 3. Franco Harris
Unofficial NFL MVP of the 1970s. Game after game, at the highest levels of competition, extraordinary ability to make a big play on top of remarkable efficiency on 3rd downs with a lean, a 2nd effort in the pile, a sprint to the corner. Absence in the 1976 AFC Championship Game, his only missed playoff game, took down a juggernaut.


2. Ben Roethlisberger
The difference between 6-10 and 15-1, and having 6 rings rather than 4. It's not about popularity, but position. Without this incredibly fortuitous draft pick in 2004, the Steelers of this century are an '80s-like also-ran. (It is fair to say they might've signed Kurt Warner in 2004, or they might've drafted Aaron Rodgers in 2005.) One of the NFL's greatest competitors, his presence has entrenched the franchise as an 8-8-minimum-plus whatever each season. Only one other Steeler has had a greater impact on wins and championships.


1. Terry Bradshaw
The obvious No. 1 choice. Mount Rushmore of NFL quarterbacks and quite possibly the greatest big-play machine in pro football history. Author of the greatest game ever quarterbacked (Super Bowl XIII), the only 40-point playoff performance of the 1970s (1976 vs. Baltimore), spearheaded the return to glory in 1978-'79, never flinched in a Super Bowl, one of the greatest athletes in NFL history.