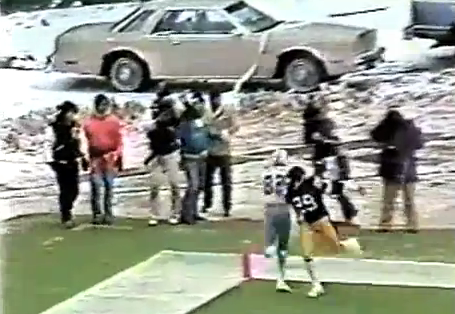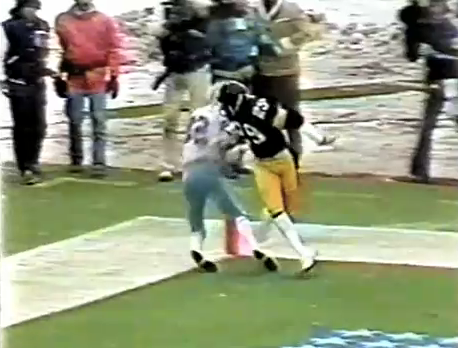 1979 AFC Championship:
How NBC tarnished one of the
Steel Curtain's finest hours
Posted: 2012
Sometimes, the drama of one-sided playoff football games is so minimal that announcers feel compelled to invent their own.

Such was the case in the 1979 AFC Championship Game (played Jan. 6, 1980), when all 4 broadcasters from the NBC crew — Dick Enberg, Merlin Olsen, Mike Adamle and Bryant Gumbel — permanently marred a glorious victory and signature moment of perhaps history's greatest team by strongly implying the game was decided by officiating.

Ever since Dan Pastorini threw (officially) incomplete to Mike Renfro late in the 3rd quarter, this game has only been remembered for 1 play and to this day carries a false taint instigated by a jaded network crew desperate to avoid a repeat of the previous year's 34-5 blowout between the same clubs.

The public gets a large amount of its perception from broadcasters. Normally, in instances of sports controversy, announcers usually take the high road, 1) to avoid the embarrassment of possibly being wrong, and 2) to avoid slighting the team receiving the favorable outcome and coming across as picking sides.

That Mike Adamle, early in his broadcasting career, would deliver one of the worst postgame productions in the history of televised football is perhaps understandable. That A-list game-caller Dick Enberg would declare the officials were Pittsburgh homers, and that he and (still early in his booth career) Merlin Olsen would succumb to barstool-like conclusions on the spot represents the frustration of the late '70s dominance of the Steelers, the popularity of the underdog Houston Oilers, the very long odds of Houston winning this game, and the expectation, with the Dallas Cowboys already out of the playoffs, that Super Bowl XIV would be a pointless exercise.

The truth is that the pass to Renfro remains the most borderline important call in championship-game history. The disputed element witnessed by side judge Don Orr — the movement of the ball in Renfro's hands — is not seen on network coverage, but only in the perfect view provided by the NFL Films photographer unavailable until well after the game was over. Under the standards of the 1970s, which allowed a ridiculous score by the Dallas Cowboys' Butch Johnson in Super Bowl XII, it probably should've been ruled a touchdown. Under today's review standards, it would not hold up.

Almost certainly, a major factor in the call was the down. It was 1st and goal at the 5½. Orr most likely was not expecting to see a fade route come his way on that snap (expectations are not part of the job, but they undeniably happen), and Jim Tunney's crew would've been cognizant that awarding a possibly unearned touchdown on 1st down could be a lot more traumatic than the alternative, assuming Houston was able to punch it in and render the Renfro pass irrelevant.

Yet, Houston's reaction to the call betrays the team's own perception of its chances. Instead of coolly lining up for the next play as confident teams would do, everyone from Renfro to head coach Bum Phillips laid into the officials. "Unglued" is an accurate description.

The next 2 plays were downright pathetic: A handoff to Clydesdale Tim Wilson up the middle (no gain), a swing pass to Rob Carpenter several yards behind the line of scrimmage. Then a field goal, successful, still a winnable game (at least in terms of score).

Houston's reaction undoubtedly inspired NBC outrage. Here is how Enberg and Olsen described the play:

Enberg: "It is Renfro, touchdown! Or is it. Out of play."

Olsen: "I don't think he can see the play. ... He looked down the end zone line to ask a call from the other official. He did not get a call."

Olsen: "Let's see if the feet come down, now he's got the ball, he does-"

Enberg: "Touchdown! It is a touchdown! It was not called one, but there is no doubt that was a Houston touchdown."

Olsen: "Now there's no question about this. He's got control. He has both feet down clearly in the end zone. It is a touchdown."

Olsen: "There is no question on that one. It's a touchdown."

Olsen: "What may be the most critical play of this game. A touchdown which is taken away from Dan Pastorini and Mike Renfro."

Enberg: "Instead of 7 that they earned, now the Oilers must have to try for 3. Now there's home field advantage, and then there's home field advantage."

Enberg: "What may be a play that we talk about for years to come ..."

How devastating actually was this call to the Houston Oilers' chances of winning?

They were outgained 251 to 99 in the first half.

Earl Campbell, by far their best player, rushed for 15 yards on 17 carries.

Oiler quarterbacks completed 4 passes to wide receivers — 2 of those being fumbled — and 15 passes to running backs.

The entire Houston offense amounted to 1 drive each half limping down the field with screens and dump-off passes to running backs (the disputed pass to Renfro was preceded by a miracle 3rd-down jump-ball grab by Ronnie Coleman along the other sideline) and securing anything but a convincing touchdown.

By halftime, they were lucky to be in the game at all, 17-10, as the Steelers, on a 17-3 run, missed a chance in the final seconds to post an insurmountable lead, due to questionable clock management and a bad 40-yard miss by kicker Matt Bahr.

In 2 consecutive AFC Championship Games, the Oiler offense scored 0 offensive touchdowns, and 3 total field goals.

As Enberg and Olsen decided the Renfro pass should be forefront on viewers' minds the rest of the game, Bryant Gumbel and Mike Adamle not only grabbed the baton for the postgame, but escalated it.

Gumbel summarized the game with, "It was the touchdown that wasn't."

He added, falsely of a game with a 251-99 halftime yardage differential, "It was tight all the way, which was why that play loomed so big."

"Pastorini throws what is a touchdown pass to Mike Renfro. Watch the feet — both feet come down in bounds," Gumbel continues.

"There's no doubt that. No. 82 has both feet down," he says.

Adamle, in the Steelers locker room, begins with the assignment of coaxing words out of Chuck Noll, not a particularly easy job, but doable with a coach who has seen this situation many times.

Adamle first called the game "another successful victory in the AFC Championship," and barely waited till the 2nd question to put Noll on the spot.

"It seems historically a lot of AFC Championship Games have been decided by controversial calls," Adamle said, an utterly bogus statement.

There was not "a lot," but a grand total of 1 AFC Championship Game affected by a controversial call, which Adamle later referenced, Denver vs. Oakland in 1977. That call was a blatant miss of a Rob Lytle fumble obscured by a pile of bodies. Neither that call nor certainly the Renfro call "decided" either game.

"Today Mike Renfro caught a ball, uh, over Ron Johnson. Where were you when that call was made," Adamle continued, somehow wondering if Noll was anywhere but on the sidelines.

"I was on the sideline," Noll said, chuckling at the absurdity of the question. "I have no idea what happened."

"Do you think officials are conscious of the fact there was an onside kick in that game in the Astrodome that went against you ... maybe making up for a call like that," Adamle said, a fair question, but conspiracy theorizing at its worst.

"I have no idea. Uh, why, was this a bad call?" Noll asked with believable ignorance, though some of his players had clearly made up their minds on the matter.

Adamle told him, "From about 4 different angles, it was, it was, a, uh, you know, obvious touchdown, but uh, I don't think it tarnishes the victory at all."

Noll grimaced, and that was the end. But nothing tarnished.

Gumbel took the helm again and chipped in, "Indeed, from all different angles, it did look like a Houston touchdown, but it'll never appear in the books."

Moments later, Adamle spoke with "pool reporter" Vito Stellino (wouldn't we all be that thin now) of the Pittsburgh Post-Gazette, who was granted an interview with Jim Tunney.

"I talked to Jim Tunney, the referee. He said the side judge, Donald Orr, ruled that while Renfro's 2 feet came down in bounds, he did not have possession of the ball when his, uh, when his feet were in bounds, he didn't have possession until after he went out of the end zone. And he said the conference was because, that he wanted to, uh, they checked with all the other officials to look for help, to see if anyone else had different view. Uh, Bill O'Brien, the field judge, did not have a, have a better view, and no one else uh, disagreed with that, with the call, and so Orr's call ... that's the call that stood."

Gumbel insisted, "our replay leads us to believe otherwise."

Writing in Sports Illustrated, Paul Zimmerman described the decision as "The cop-out call," then printed every complaint from the Houston Oilers franchise.

"I wasn't juggling it. There was no argument on that, none at all," Renfro said, a blatantly false claim debunked by the NFL Films footage.

Coach Bum Phillips, who on the sidelines railed at the refs for signaling incomplete, admitted to Zimmerman, "I couldn't see whether he was in-bounds or not. I couldn't tell whether he juggled the ball or not." Then, resorting to the most insincere of gripes, claimed what really bothered him wasn't the truth of the play, but the procedure for assessing it. "That's not important. The big problem is that the officials who work the playoffs have no experience working together as a crew," Phillips said.

Zimmerman quotes Mean Joe Greene, expressing both the team's genuine deep respect for the Oilers as well as its own supreme confidence of not needing breaks to win, as saying, "I felt bad for Houston. I didn't see the play, but I was hoping it was a correct call. I can't take any satisfaction in that call. You have 22 players out there waiting for a decision to be made, and you don't get it. That's all you need, a decision, but where was it?"

Said Lynn Swann, "You have to ask the rhetorical question. Just like in the last Super Bowl when we got the benefit of an official's call against Dallas. Wouldn't we have come back and played well enough to score again and win it? I think we would have."

Steelers cornerback Ron Johnson, nearly the victim of the play, told a TV reporter in the locker room, "Well the way I seen it, I didn't think it was a touchdown at the time. But when I saw the replay, the play was a lot closer than it appeared to be on the field. I still don't feel it was a touchdown."

Pittsburgh area sportswriter Jim Wexell, who has written about the Steelers for decades, chronicled the 1979 team in his book Tales From Behind The Steel Curtain and contended the NFL Films footage shows Renfro "attempting to secure a better grip" while his feet were going out of bounds. "The play had been called correctly," Wexell concluded.

Venerable Houston sportswriter John McClain plays it straight down the middle in a 1996 interview with Renfro, writing that Pete Rozelle indicated "in essence" the call was blown but wouldn't say so explicitly.

Renfro in this article was as adamant as ever, suggesting Tunney's crew deliberately made the wrong call out of fear. "I got up from the snow and saw Mr. Orr's eyeballs about to pop out, and when he went to huddle with the other officials and the snowballs started raining down from the stands, I knew we were in trouble. If they had called it in our favor, it may have started a riot." Renfro continued then to insist, "I've seen the play a million times on sports shows. It was a 1-handed catch. The ball stuck on my hand, and I brought it to my chest without any juggling."

Sports Illustrated's Don Banks, in a 2010 article on instant replay, employed selective history. Banks writes, "Instead of being 17-17 with a quarter to play, the Oilers kicked a 23-yard field goal and trailed 17-13." In fact, instead of being 17-17, it was 2nd and goal from the 5½, and the Oilers folded and ran 2 pathetic give-up plays.

Banks claims "TV replays showed fairly conclusively that Renfro did indeed have control of the ball with both feet down before he left the end zone," omitting that TV did not have an angle in front of Renfro actually showing the ball changing hands.

Without mentioning NBC, Banks notes, "The perception that Houston was jobbed out of potential game-turning score and maybe even the franchise's first Super Bowl berth was firmly established in the public's consciousness. That may be a stretch, but that's how these things tend to work."

For whatever bizarre reason, Renfro's pass became one of the standard-bearers for instant replay while a much more egregious error caught perfectly by the camera, Rob Lytle's fumble in the 1977 AFC Championship Game, quickly faded to oblivion. Enberg, who called that game as well, first suggested the play had been blown dead before the fumble, then minutes afterward conceded, "there is no question that Lytle fumbled the ball before he was either stopped cold or fell to the ground." Oakland, accustomed to controversial calls in so many big games, did not protest nearly as dramatically as the Oilers (but did get an unsportsmanlike conduct flag) and elicited no suggestion of "home field advantage" from Enberg, perhaps because the Broncos, like the Oilers, were a likeable underdog.

Don Shula told Banks it was the Renfro pass that apparently was the difference-maker in the NFL's long march to instant replay, which didn't happen until years after. "It was the fact that people sitting at home in their living room could see that the call was blown on the field, see that it was missed, and yet the referees couldn't get that information and use it to fix the call. We were finally able to convince the owners that that had to change," Shula said.

In all likelihood, the Steelers would want the play reversed equally as much as, if not more than, the Oilers. This wasn't an upstart needing a Tuck Rule gift; this was a powerhouse intent on dominating with no excuses.

The 1979 Steelers were quite possibly, to that point, the greatest team in NFL history. That season, injuries took a serious toll, and unlike many other great teams, they did not protect the football, but just bombarded opponents with more big plays than opponents could withstand. The team coasted at select times, lacking the focus of the rejuvenated 1978 squad.

Yet the team enjoyed its greatest domination of any of the championship years, marked by a frightening midseason rampage through quality opponents Denver, Dallas, Washington and Kansas City. While an extraordinarily popular franchise, Steelers fatigue had set in, with expected rivals Dallas and Houston (a 38-7 blowout victim early in the year) looking unlikely to stop a 4th ring, and even Pete Rozelle suggesting the league would be better off if the Steelers weren't in another Super Bowl.

The real story of the 1979 AFC Championship Game was an utterly brilliant performance by Terry Bradshaw and really the last spine-chilling playoff effort of the Steel Curtain.

Bradshaw called the perfect game, often converting fairly long 3rd downs on the ground and throwing pinpoint touchdown and sideline passes under dreadful conditions. His huge 3rd down scramble in the first quarter came with a pop for the defender who knocked him out of bounds and set up the team's first points, before the passing attack started raining points.

Nevertheless, in a strong sign of the game's sympathies, Merlin Olsen somehow insisted in the 4th quarter, "I have to say though if I were picking my player of the game right now, it would be Pastorini. I think he's been the most impressive player on the field."

An offensive line with 2 backups was more than enough — plenty more than enough — for Houston's inspired defense, carving out ample running lanes for Franco Harris and Rocky Bleier and generally giving Bradshaw all day to throw to Hall of Fame receivers often wide open.

Nobody believed the 1979 Steelers defense equaled the Curtain of 1974 or '76, but in this game they basically did, as the Oilers were stifled to a grand total of 24 rushing yards and whose 2 successful drives relied on remarkable catches by running backs. Dan Pastorini, a complete class act this game and the year before, somehow was bull's-eye accurate on feathery swing passes, but struggled mightily to throw downfield to receivers and rarely did so. Houston wide receivers fumbled 2 of the 4 passes they caught, and Campbell even fumbled once as the Oilers looked anything but comfortable with the ball.

Despite the well-deserved, circle-the-wagons, never-quit reputation of the Oilers, one of history's most likeable teams and perhaps the most highly respected Steeler opponent, their performance was nothing like their inspiring victory a week earlier in San Diego or their regular-season upset of the Steelers in the Astrodome.

In San Diego, the backups overachieved. In Pittsburgh, the starters were a flop. They ran an ultra-conservative game plan, they "hit" with zero authority, they crumbled under adversity. One Charger-game hero, Rob Carpenter, got no carries in Pittsburgh in favor of a tentative Campbell. There was minimal risk-taking, more like a bunch of guys standing around waiting for Vernon Perry to somehow deliver enough scores to put them over the top.

Zimmerman declared, "It was a courageous performance by Houston," when actually, aside from several players being dinged, it was anything but.

Much more realistically, Zimmerman concluded, "The Oilers were outmanned in every phase of the game."

There were several great questions for Adamle to ask in the locker room. Did the Steelers, seeing the officials huddle after Renfro's catch, actually believe this game was losable? Did Campbell appear to be injured? Did Ken Burrough's absence make a difference in the game plan? Did questionable clock management squander a chance to put the game away at halftime? Is the team too nonchalant about its turnovers? Did they take Houston too lightly? Is this the greatest team of all time?

Instead, Adamle asked Joe Greene that Chuck Noll has been a big success, and "a lot of his success has been his relationship with, with all the players but in particular the black players. You have been transferred from Mean Joe Greene, a guy out of North Texas State, to one of the real leaders of this Steelers team. What has your relationship been like with Coach Noll?"

"Well over the years I, I've tried to play, uh, defensive tackle," Greene said with a puzzled expression, continuing on about his role as mentor.

Adamle got 1 question for Bradshaw and managed to make it, "Last week Vernon Perry had a sensational game, 4 interceptions. Today you went out, you threw right in his direction, he picked you off for 75 yards."

"He did, he really did," Bradshaw chuckled, explaining how he and Bennie Cunningham got their signals crossed on the play. "Another outstanding performance," Adamle concluded.

Probably the best critique, however somber, of the 1978 and 1979 AFC Championship Games came each year from Pastorini in the losing locker room. He assured that the Oilers would be pulling for the Steelers in the Super Bowl, and that his squad had just lost to a legitimate juggernaut.

Sam Nover asked Pastorini about The Call. "That wasn't the, uh, the point in the game," Pastorini said. If only everyone believed him.